Ballingeary is a small village in West Cork in the Muskerry Gaeltacht or Irish speaking area. Béal Átha'n Ghaorthaidh, which is it's name in Irish means 'the mouth of the ford of the wooded valley through which flows a river', namely the river Lee.
Ballingeary is ideal as a central base to explore the rest of West Cork and Kerry. There is a daily bus connection to and from Cork City. There is trout fishing in Gougane Barra and pike and coarse fishing in Lough Allua, six miles of lake between Ballingeary and Inchigeela. Boats can be hired locally.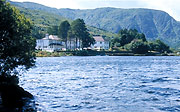 There are some very interesting historical sites locally including ancient burial grounds and Megalithic tombs; a 'Crannóg', a lake dwelling over 1500 years old; stone forts and the tallest standing stone or 'Gallaun' in Ireland. Gougane Barra, a historic and scenic valley is a popular destination for both tourist and pilgrims as it was here that St. Finbarr, founder of Cork City, had a monastery in the 7th Century. Ballingeary is also home to the longest 'Clapper Bridge' in Ireland, which has been restored in recent years. This ancient bridge was built using large stone slabs and is still in use by locals and visitors alike to the present day. Ballingeary Cumann Staire (Historical Society)', procured the 'Famine Pot' which was used in the parish during the famine years to feed the hungry. It is on display adjacent to the bridge in the centre of the village.
Ballingeary is probably best known for 'Coláiste Na Mumhan' which was the first Irish college in Ireland, founded in 1904. Each year, hundreds of students come to learn Irish at the college and also from the local people. Among those who have studied here are the 'Patriot Lord Mayor of Cork' Terence McSweeney, Tomás MacCurtin, writer, Piaras Beaslaoi, Sean O'Faolaoin, Frank O'Connor and many other well known personalities.
Literary Connections
The 'Tailor & Ansty', subjects of Eric Cross's famous book, lived between Ballingeary village and Gougane Barra. A local and famous poetess Máire Bhuí Uí Laoghaire immortalised this area in verse through one of her rousing narratives telling the tale of the Battle of Keimaneigh in 1822, "Cath Céim an Fhia".